How to setup MediaPortal with the Terratec Cinergy 1200 DVB-C card
MediaPortal turns your PC in a very advanced Multi-Media Center / HTPC. It allows you to listen to your favorite music & radio, watch your video's and DVD's, view, schedule and record live TV and much more. You get Media Portal for free/nothing/nada/nopes and best of all it is opensource. This means anyone can help developing Media Portal or tweak it for their own needs!
This guide shows you how I installed MediaPortal 2.0beta with the Terratec Cinergy 1200 DVB-C card.
If you have comments, additions or modifications, please let me know at dtv@wateringen.net.
MediaPortal comes in two tastes at the moment (december 2005): stable version 1.3, and development 2.0beta.
I changed to 2.0 beta because of problems in performance/stability with 1.3 (probably the version was not the reason, but it included additional functionality like teletext support).
Get the Media Portal software (and pre-requisites):
The BETA (daily CVS builds) can be found at http://www.team-mediaportal.de/mediaportal-cvs-download.php
READ THE STEPS LISTED THERE.
Download MediaPortal testrelease 0.2 release candidate2, not necessary if already done
Download .NET Framework Version 2.0 (it can be installed next to .NET 1.1)
OPTIONAL: Download the latest MediaPortal beta update from http://www.team-mediaportal.de/mediaportal-cvs-download.php)
Download FFDshow from http://www.free-codecs.com/download/FFDShow.htm; press the word 'Download' in about the middle of your screen. I chose for the [ FFDShow MPEG-4 Video Decoder 2005-12-08 SSE ]; it seems to work for me.
OPTIONAL: Download Mozilla ActiveX Control for Web Browser (Seems to be only needed for the MediaPortal 'built-in' webbrowser)

Install .NET FrameWork version 2.0. (it can be installed next to your existing.NET 1.1)
Install ffdshow; keep all defaults
: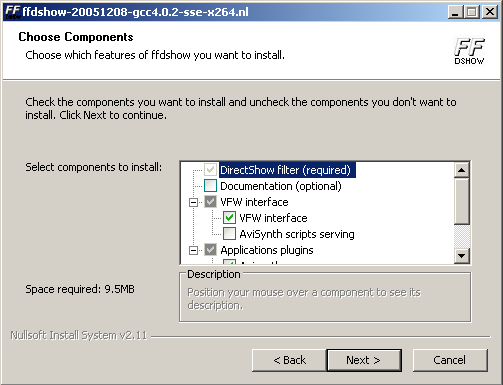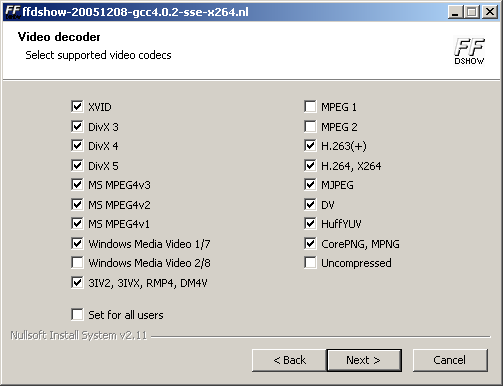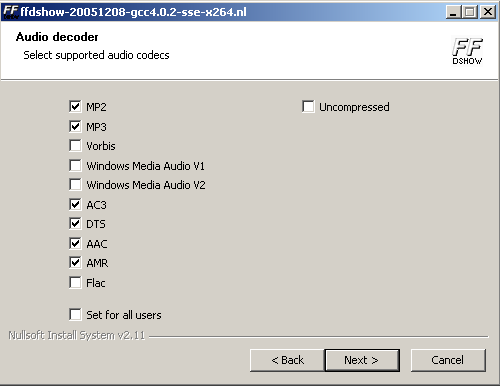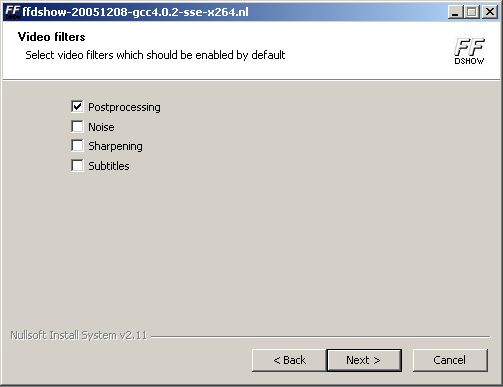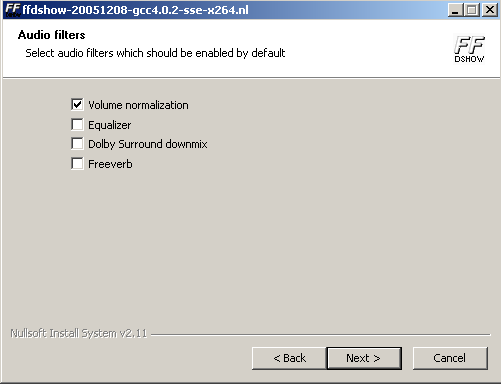 Install MediaPortal testrelease 0.2 (extract Mediaportal_0.2_RC2.zip and run setup.exe; just accept all defaults, you may change the install location):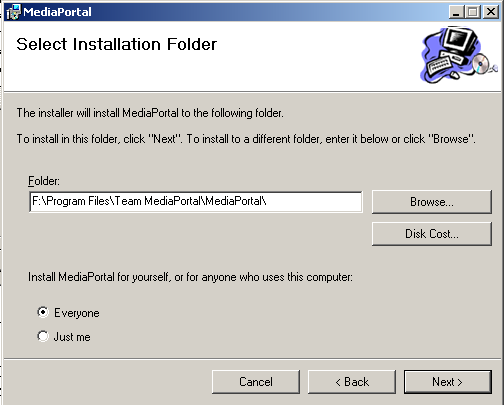 (I also see reports on the Internet that you need to install WinDVD, needed for the MPEG-2 codec; if you have a DVD player installed on your system, or a recent Nero Burning ROM, you probably have that codec available).
Copy the contents of the 'Media Portal beta update' to the folder that you installed MediaPortal into (it is a rar file.. open it with WinRAR or the free archiver application 7-Zip). About all files in the directory are replaced/overwritten by the update. That's OK!
3. Initial Setup
Run Start -> Programs ->MediaPortal -> Setup; a Wizard will guide you through the initial setup: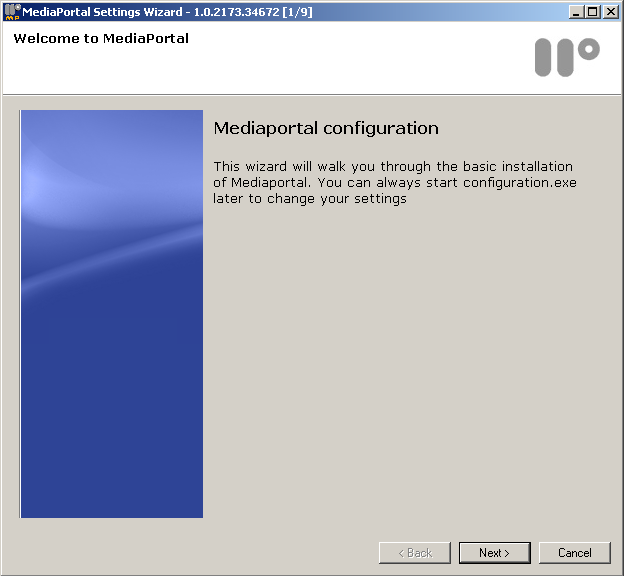 Click Next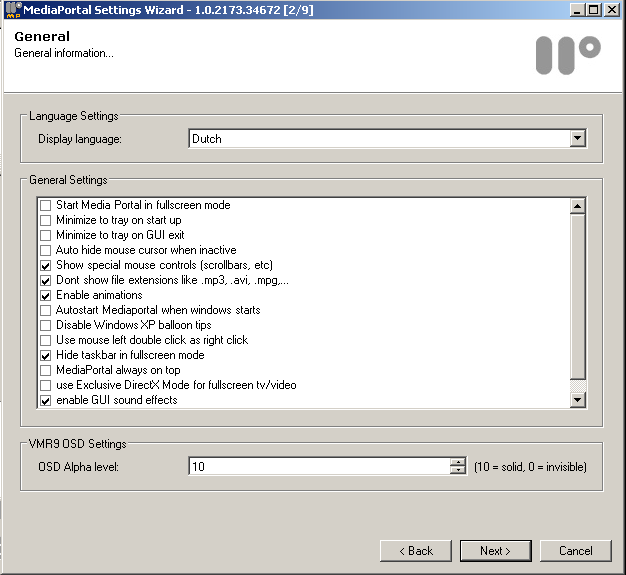 Defaults values are just fine... press Next.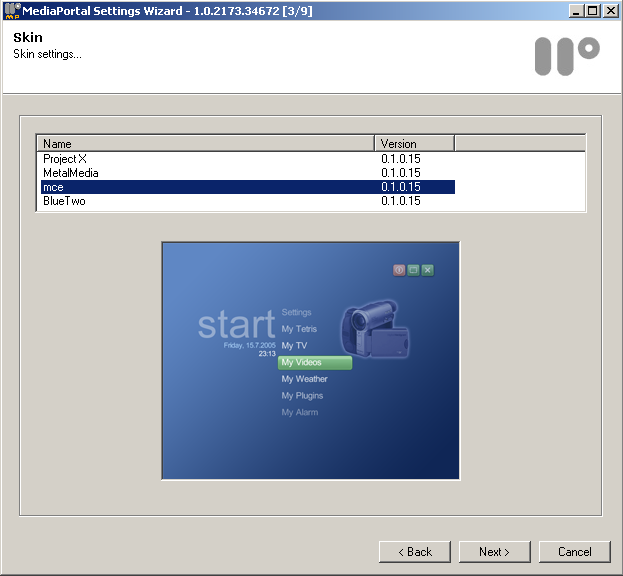 Choose how MediaPortal should look like.. I like the mce look-a-like skin... Press Next.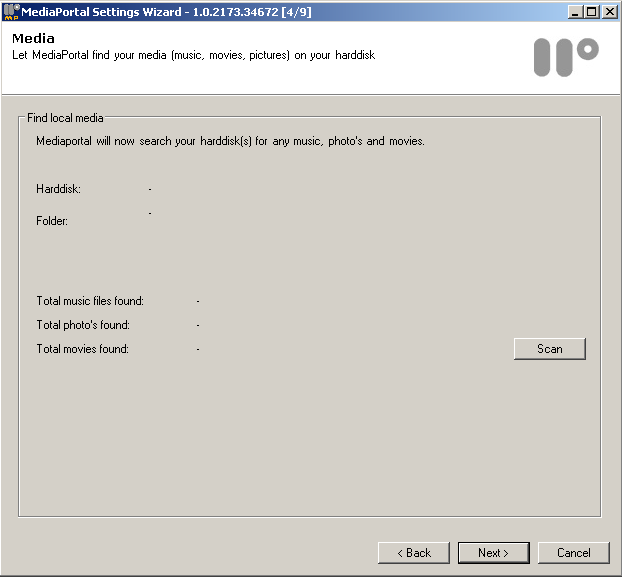 I don't like scans.. and for viewing TV, I don't need it. Just press: 'Next'.
GREAT! MediaPortal detected our Terratec DVB-C card.. However, Scanning at this moment will/may fail. We'll scan the channels later.. Just press: Next.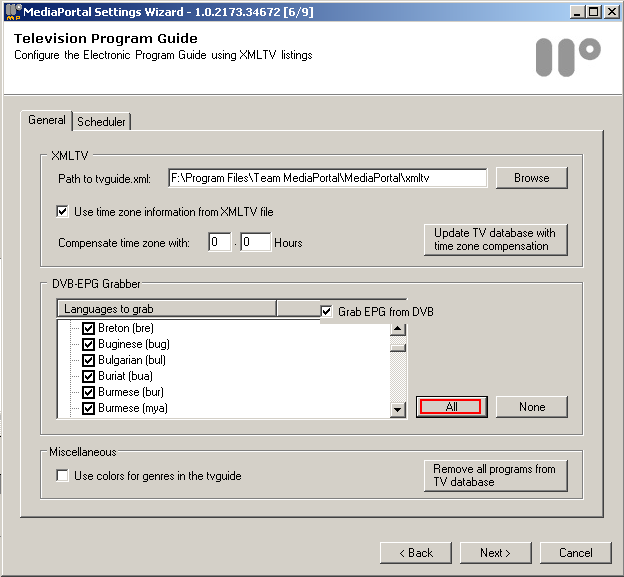 Press the All button to allow EPG (Electronic Program Guide) information to be imported into MediaPortal. You will need this to record programs. After pressing All, press Next.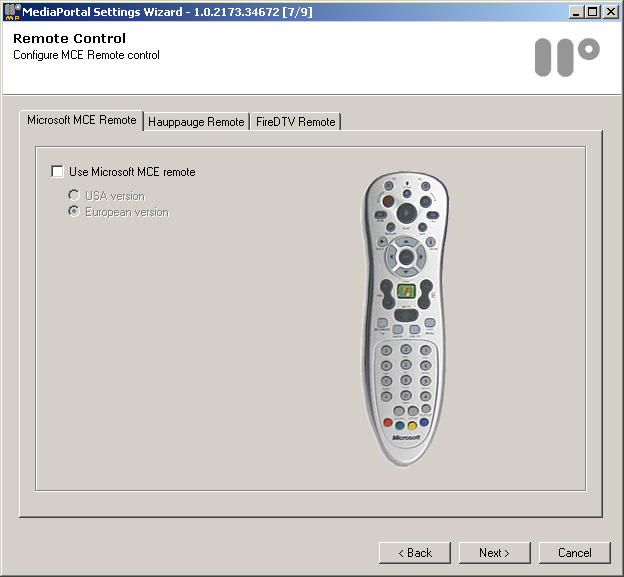 If you are the proud owner a remote control for your PC, select and configure it here. I don't have one, and all I can do is to press: Next.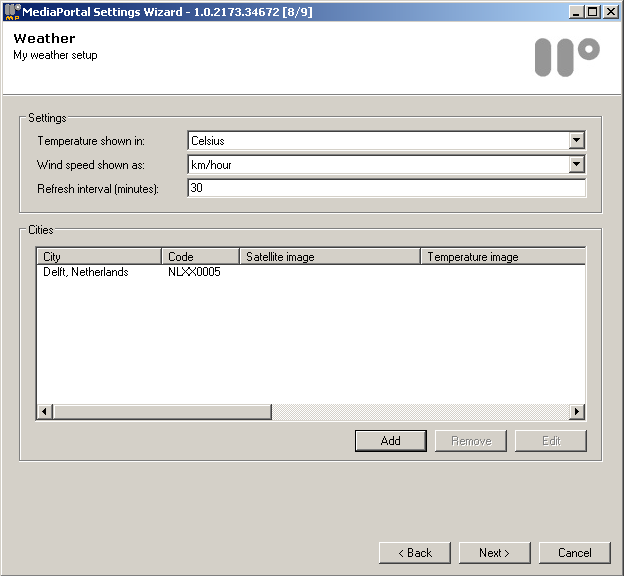 If you want to view weather reports/forecasts in MediaPortal, press add to add a place nearby where you live. I live near Delft.. so the weather for Delft is good enough. Press Next; and Next again on the last screen 'Congratulations'.
4. Continued setup MediaPortal
Run 'Media Portal Setup' again. Navigate to Television -> Capture cards.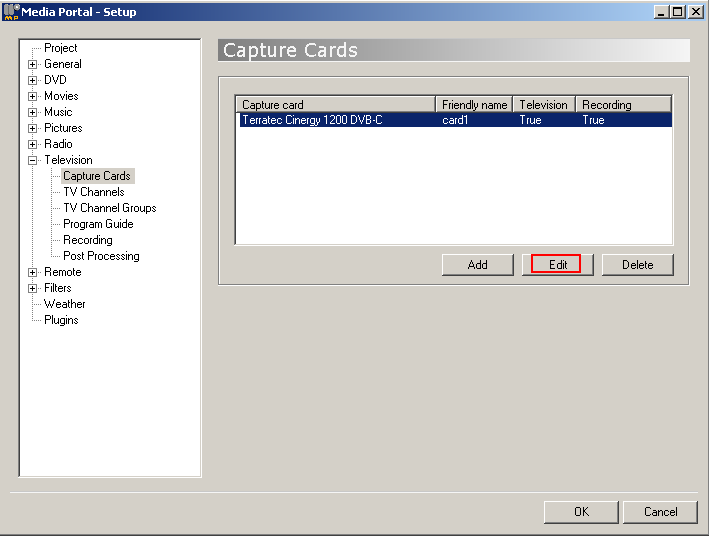 Here is our DVB card detected correctly. Select the card, and press Edit to modify the settings for this card.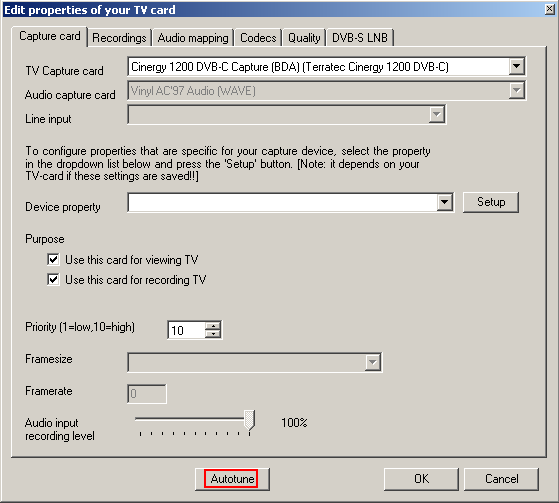 Press 'Autotune'. Select the symbolrate for your cable network from the list. For CAIW (Westland, The Netherland), this is 6900 (kS/s):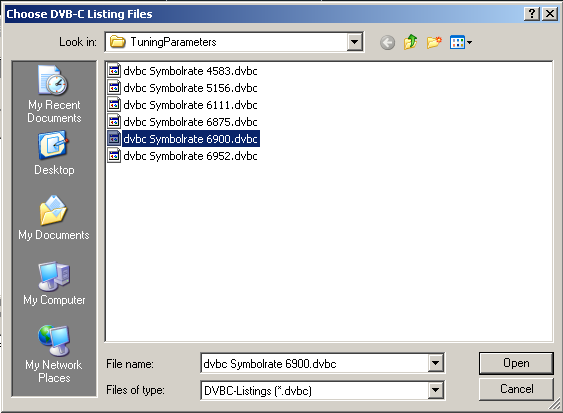 Press: 'Open'. Press 'Auto Scan'. The scan should start now. Signal strength shows the amount of signal, Signal quality shows up if there is a digital signal available on the frequency scanned.
THIS PROCEDURE WILL TAKE QUITE SOME TIME; IT MAY TAKE SOMEWHERE BETWEEN 15 and 30 MINUTES. Note that the first half of the progressbar nothing may happen. My cable provider starts from 404 MHz (see: freq: 404000 counting up..); all channels below are not used for digital TV.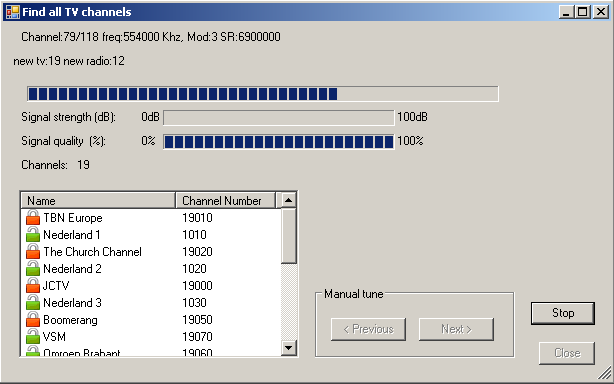 Notice the channels found. Green locks mean: free to air; Red locks mean that the channel is encrypted. We cannot view this channel with the Terratec card.
When the scan finished; press: Close. My installation finds 130 tv, and 100 radio channels (mostly encrypted).
You may modify the 'recording directory' to a location with lots of diskspace under the 'Recordings' tab.
Navigate one level 'up' to Television:
Make absolutely sure that 'Video renderer' is NOT set to Overlay. Set it to VMR9 (Video Mixing Renderer), or VMR7. Overlay will result in very poor performance!
When you try to leave the setup; annoying boxes like: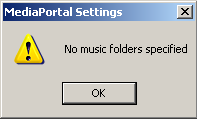 Add a directory to the 'music folders':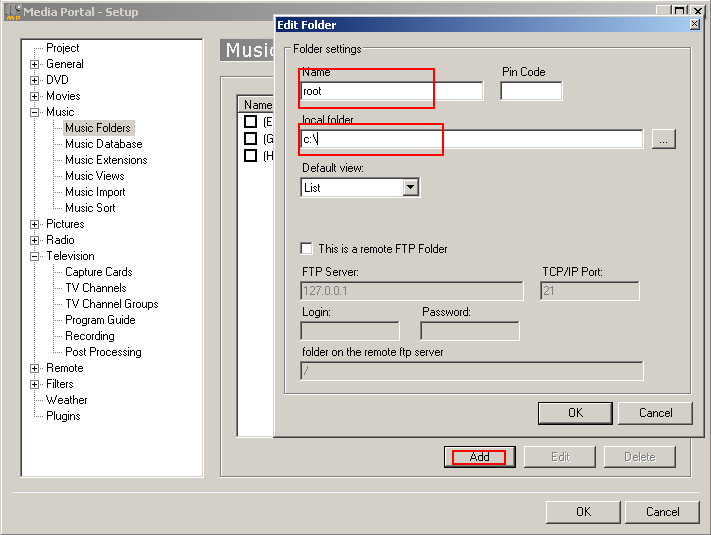 The same question is asked for Movies and Pictures.. add a directory there as well...
Close MediaPortal Setup with 'OK'
Now MediaPortal should be able to run. Start -> Programs -> MediaPortal -> Mediaportal.
Select My TV, a channel, and TV on: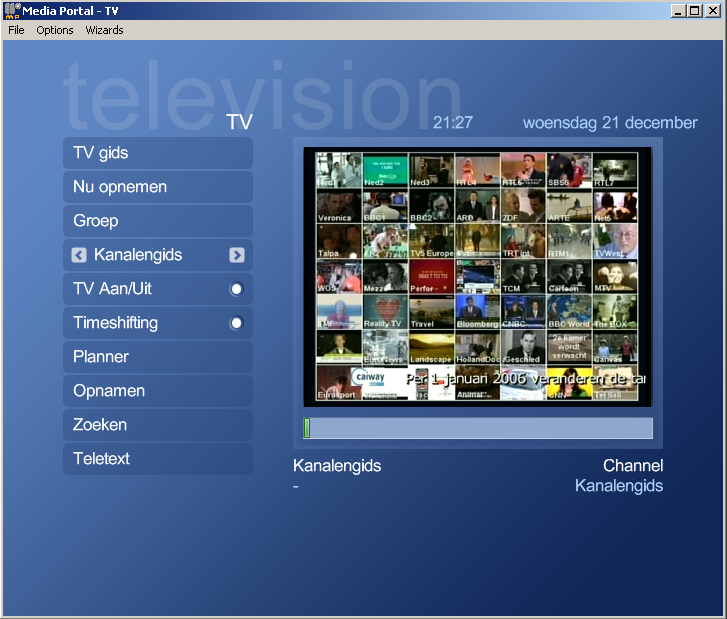 This is the Electronic Program Guide: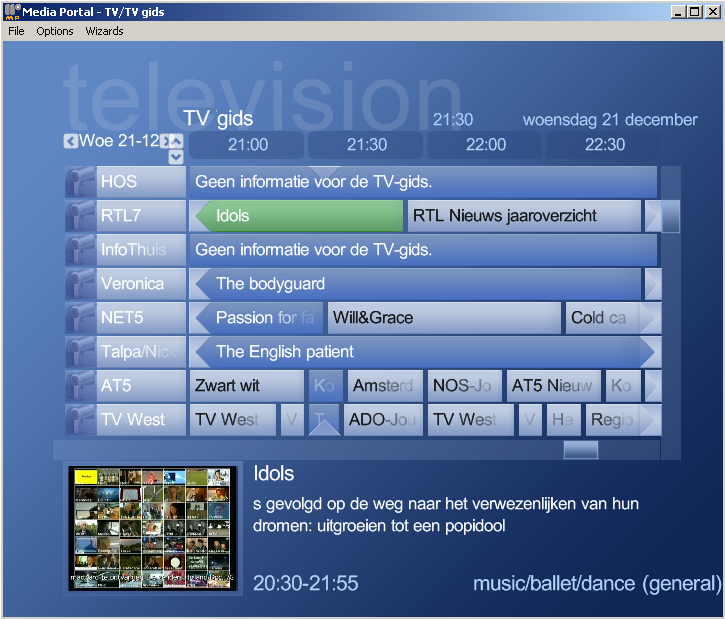 NOTE: MediaPortal is taking LOTS of CPU and Memory: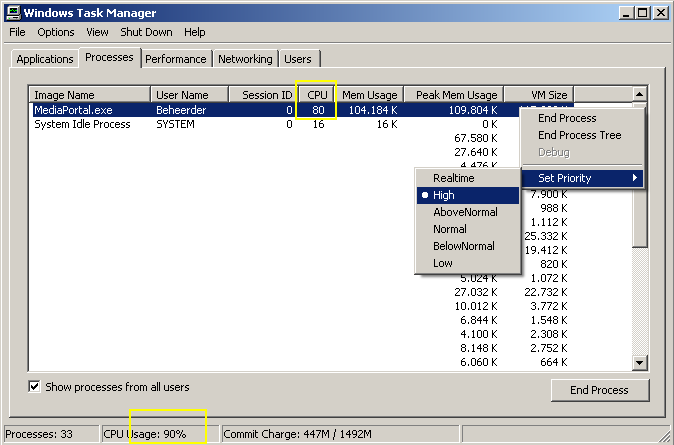 My system is an AMD Athlon 1700+ on 1.47GHz with 768Mb RAM; TV viewing and recording becomes acceptable only after increasing the priority of the MediaPortal process. At normal priority, the video/audio does not flow fluently. NOTE: Setting the Priority to 'RealTime' made my system stop responding several times.
I intend to use MediaPortal as digital video recorder. I suggest you have a look at MediaPortal Webinterface. This extension gives a more convenient Webinterface to MediaPortal, and functions like: EPG search for programs.
Last modifiied: 21 december 2005; Herman Robers (dtv@wateringen.net).